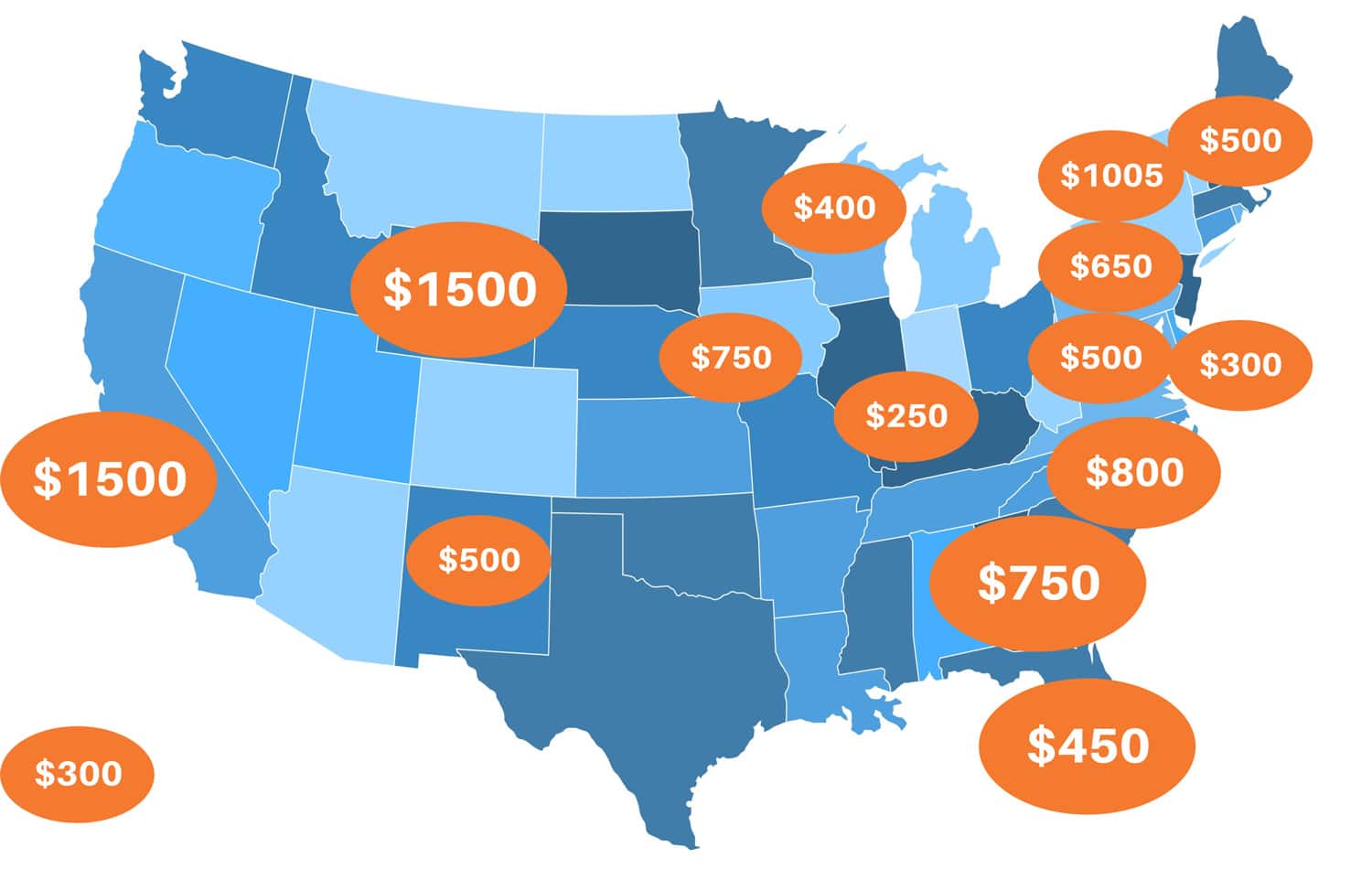 U.S. residents will receive Stimulus Checks worth up to $1,500. Find your state!
Millions of taxpayers in these 18 states are receiving payments from their state governments, from coast to coast.
To fully benefit from those initiatives, make sure you have your Social Security card and tax documents on hand. If you have lost your Social Security card, you can follow our simple process to replace it from home.
---
California
California's governor, Gavin Newsom, and the state legislature have committed to sending millions of households. Inflation payments will be up to $1,050 for a married couple with at least one kid. The money will be paid out as immediate deposits or debit cards beginning in 2023, according to The Sacramento Bee, with the first payouts expected as soon as October.
How much money do people get based on their income, tax-filing status, and family size?
Single people with gross incomes of less than $75,000 per year and married couples who file jointly and make less than $150,000 will each receive $350. As a result, a married couple with children may qualify for up to $1,050 in tax credits.
For individuals who earn between $75,000 and $125,000 per year and couples who make between $150,000 and $250,000 each year, the maximum amount they will get is $750.
Filers who make between $125,000 and $250,000 annually will get $200 each. A family with children in this range might be eligible for up to $600.
The payments are only available to married couples earning less than $500,000. Single individuals earning more than $250,000 but less than $500,000 aren't qualified for the payments.
Tips

Replace your social security card in California.
Colorado
In Colorado, taxpayers who submit their 2021 return by June 30 will receive a check for $750 starting in September and joint filers will get $1,500. Filers that received an extension and filed by the Oct. 17 deadline will get their money back on Jan. 31, 2023. You can this website for more information.
Tips

Replace your social security card in Colorado.
Delaware
In April, Delaware Governor John Carney signed a bill that allows taxpayers who completed their 2020 tax returns to receive $300 stimulus payments. Each person receives one of the payments if you filed jointly.
Tips

Replace your social security card in Delaware.
Florida
"To offset the expenses of rising inflation, especially with a new school year on the horizon," according to a letter from Republican Gov. Ron DeSantis, over 60,000 Florida families will receive one-time payments of $450 per child."
Families must have received Temporary Assistance for Needy Families (also known as welfare) or be a foster parent, family member, or non-relative caregiver to qualify.
There is no need to apply for the benefit, which is automatically sent out to eligible people. According to the Florida Department of Children and Families, checks should arrive in time for Florida's "back to school" sales-tax holiday, which runs from July 25 through August 7.
Tips

Replace your social security card in Florida.
Georgia
In March, Georgia Gov. Brian Kemp signed a bill allowing taxpayers to get rebates for both 2020 and 2021 state returns. Single persons received $250 in May, couples who file as heads of households received $375, and married couples filing jointly earned $500 in June. Residents of part-time states, those who pay little or no income taxes, or individuals owing taxes, child support, or other payments may have gotten a smaller payment. The Georgia Department of Revenue's website offers additional information.
Tips

Replace your social security card in Georgia.
Hawaii
Residents of Hawaii who earned less than $100,000 in 2021–or $200,000 if they file jointly–will get a $300 tax rebate this year. Dependents are eligible for the payment. Individuals who made more than $100,000 and married couples who made more than $200,000 will receive a one-time payment of $100. Payments are expected to begin in late August, according to the state Department of Taxation.
Tips

Replace your social security card in Hawaii.
Idaho
The State of Idaho has given every resident and dependent $75, or 12% of their 2020 state income tax return, whichever is greater. In March, checks began to arrive. Check your status online.
Tips

Replace your social security card in Idaho.
Illinois
The state's planned $1.83 billion bailout package, which went into effect July 1, includes income and property tax rebates as well as a temporary reduction in various sales taxes. Individuals who made less than $200,000 in 2021 will receive a $50 income tax rebate, while couples filing jointly with incomes under $400,000 will get a $100 rebate. Filers may also get up to $100 per dependent they listed on their taxes for 2021 (up to three dependents). A family of five can earn up to $400 in total compensation.
According to the Illinois Department of Revenue, Comptroller Susanna Mendoza aims to begin issuing checks on Sept. 12, with distribution ending around eight weeks later. The Governor's Family Relief Plan includes a number of tax holidays and rebates, including:
From July 1, 2022, through June 30, 2023, the state's 1% sales tax on groceries will be suspended.
The sales taxes on qualified clothing and school supplies will be decreased from 6.25 percent to 1.25 percent from August 5 to 14th.
A permanent increase in the earned income credit from 18% to 20%. Rebates for homeowners earning less than $250,000 (or $500,000 if filing jointly) will be available in an amount that equals the property tax credit they qualified for on their 2021 Illinois returns, up to $300.
Tips

Replace your social security card in Illinois.
Indiana
Starting in May, all Indiana residents regardless of income received $125 payments as a result of the state's automatic taxpayer refund legislation. Gov. Eric Holcomb is urging lawmakers to send taxpayers an extra $225. "Hoosiers have actual requirements right now, including at the gasoline pump and grocery shopping, and everyone should benefit from the state's success," Holcomb said in a statement released in June by the Indianapolis Star.
Senate Republicans have objected to this measure by introducing an alternative plan that would suspend the state sales tax on residential utilities, including electricity, water, gas, internet, and phone bills, for six months.
Tips

Replace your social security card in Indiana.
Maine
The state of Maine is mailing checks to taxpayers who have completed their 2021 tax returns and have an adjusted gross income below $100,000. A single payment of $1,700 will be given to couples filing jointly. Checks were expected to arrive before the middle of July.
Tips

Replace your social security card in Maine.
Massachusetts
The Massachusetts State Legislature is proposing to give one-time tax rebates of $250 and $500, respectively, to eligible individuals and married couples. Eligibility for a rebate, which is drawn from the state's $3.6 billion revenue surplus, is based on annual income declared in 2021: Individuals must have earned at least $38,000 but not more than $100,000; couples must have earned at least $62,000 but not more than $150,000. Checks could be sent by the first week of October.
The state's tax revenue can't grow at the rate of wages and salaries, as mandated by Massachusetts law. Because the state auditor does not check for any revenue that exceeds the tax cap until September, it is uncertain how much money is in the pot. "We believe the amount is probably north of $2.5 billion in tax refunds to residents of Massachusetts," Baker added, according to WGBH.
Massachusetts has already issued $500 stimulus payments to low-income individuals this spring, according to the state. Individuals had to have a household income at or below 300 percent of the federal poverty level and not have received unemployment compensation in 2021.
Tips

Replace your social security card in Massachusetts.
Minnesota
Starting in July, most Minnesota workers will get a one-time payment of $750, with applications accepted up until July 22 and checks beginning to arrive in late July. Gov. Tim Walz has also called for a special session of the legislature to enact a proposed income tax rebate of $1,000 for single filers making less than $165,000 and $2,000 for couples earning less than $275,000.
Tips

Replace your social security card in Minesota.
New Jersey
New Jersey Governor Phil Murphy has already approved a $500 tax rebate for about 975,000 residents of the state. He has also expressed support for payments to nonresidents and resident aliens as well as their families who do not use a Social Security number.
In June, Murphy unveiled a plan to provide more than $2 billion in rebates to approximately 2 million homes in New Jersey. Families that pay property tax would be eligible for up to $1,500 under the program.
Tips

Replace your social security card in New Jersey.
New Mexico
In May and June, New Mexico gave state taxpayers $500 in rebate checks, for a combined total of $250. A further rebate is expected to be delivered in July, with certain restrictions.
The IRS is offering a $500 income tax refund to married couples filing joint returns, heads of household, and surviving spouses with earnings under $150,000.
Single filers and married persons who file separately are eligible for a $250 rebate if their yearly incomes are less than $75,000.
New Mexico residents who do not file income tax forms may also qualify for economic aid, which is restricted to $20 million and is given on a first-come, first-serve basis. Married couples or single people with one or more dependents are eligible for $1,000, whereas those without dependents can get $500. The New Mexico Human Services Department offers applications.
Tips

Replace your social security card in New Mexico.
New York
In June, approximately 3 million New York state homeowners started receiving property-tax rebates of up to $1,050. New York City households, on the other hand, will receive an average of $425 in rebate. Those who qualify should have received a payment automatically by the end of June; further information may be found on the New York State Department of Taxation and Finance's website.
Tips

Replace your social security card in New York.
Pennsylvania
More than 260,000 older homeowners, renters, and persons with disabilities received a portion of a $121.7 million payout through the Property Tax/Rent Rebate Program in July. Residents who meet the eligibility requirements should visit the MyPath website or fill out a paper application before the deadline of Dec. 31, 2022, in order to receive payments as a direct deposit or check.
The maximum standard rebate is $650, according to the Department of Revenue, but supplemental rebates for qualifying homeowners might raise that amount to $975. (The department will automatically calculate supplementary rebates for qualifying applicants using your Social Security number, birthday, and year you are requesting.) Using the state government's "Where's My Rebate?" tool, enter your Social Security number, birth date, and year you are claiming for a status check.
Tips

Replace your social security card in Pennsylvania.
South Carolina
Starting in late November or December, income tax refund checks of up to $800 will be sent out to South Carolina taxpayers. Residents who paid at least $100 in taxes will get a $100 rebate, with the amount increasing based on their tax burden up to the $800 maximum per return.
Tips

Replace your social security card in South Carolina.
Virginia
Virginians will begin receiving one-time payments in late September when legislation cleared the General Assembly. Individual filers will be paid $250, while married couples who file together will be reimbursed $500.
Tips

Replace your social security card in Virginia.
Is it possible that another federal Stimulus Checks?
Analysts advise against counting on it, especially because another cash injection might inflame further price rises. "There is no silver bullet to the inflation problem," Michael Hayes, a professor of public policy at Rutgers University, told The Hill. "Even if targeted to the lowest-income group, another round of stimulus checks would simply provide short-term alleviation with the potential for mid-term/long-term difficulties."
What if I don't have my Social Security card?
It's simple to replace your Social Security card online if it is lost, stolen, or destroyed. We'll send you a new card as soon as possible and with zero difficulties using our straightforward, streamlined application procedure. All you have to do now is fill out a few brief questions and we'll take care of the rest. Our staff will prepare an entire application package for you, as well as tailored instructions and a prepaid, trackable envelope to send it in. It only takes a few minutes to receive your new Social Security card via mail without leaving your home.
---
Summary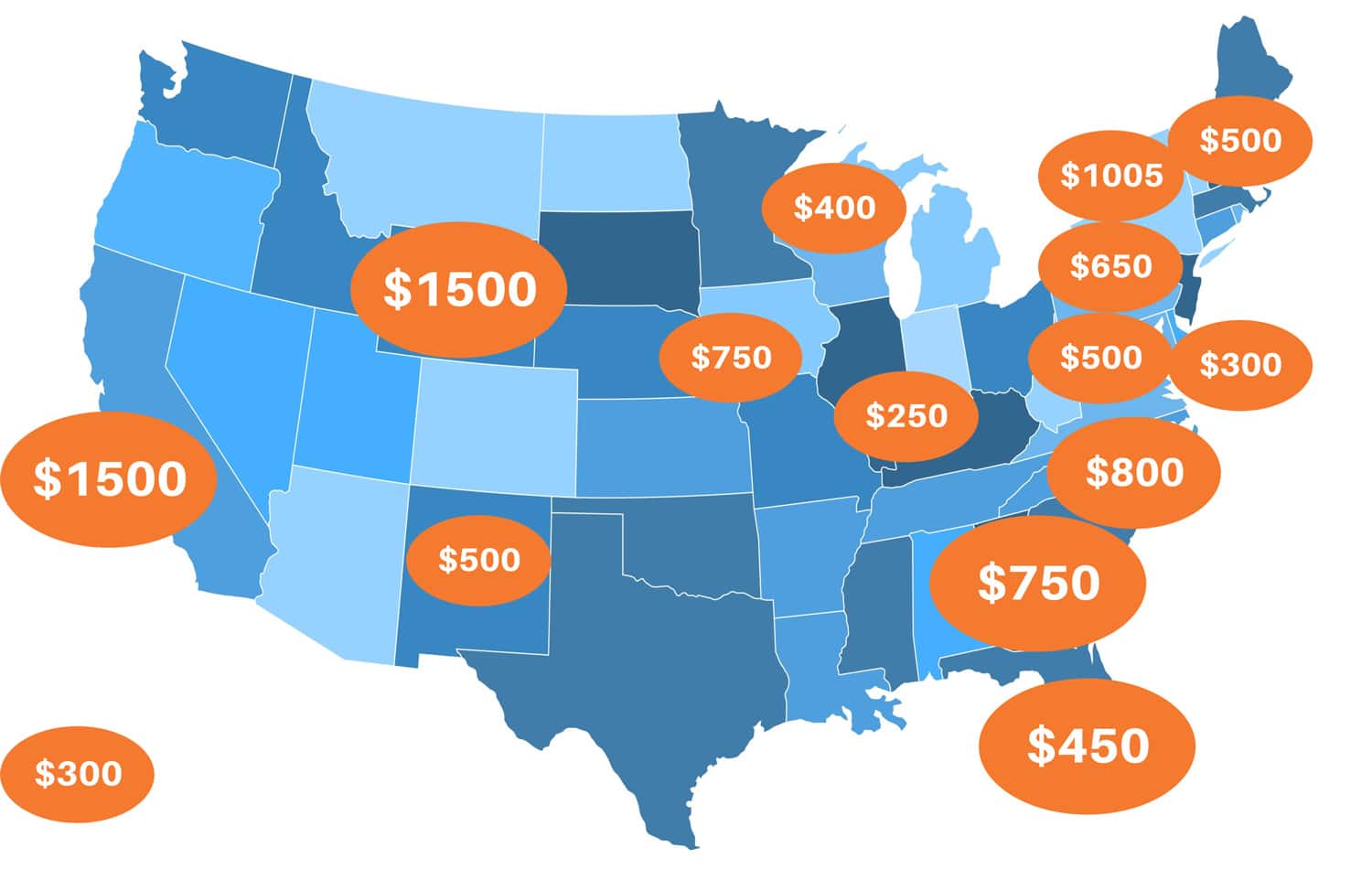 Article Name
U.S. residents will receive Stimulus Checks worth up to $1,500.
Description
Millions of taxpayers in these 18 states are receiving payments from their state governments, from coast to coast.
Author